2018-04-11
In our recent webinar on "Maximizing Your Management In a World of Disruptive Technology," we discussed some of the new challenges facing managers and leaders in today's workforce. Let's take a look at what you can do to respond to these challenges.

I was recently called into an organization to work with their middle management group. Their managers are facing challenges common to organizations around the world. In order to remain competitive, financially fit, and provide value, they have tried to stay ahead of disruptive technology, and anticipate customer needs, while managing lean and mean organization with the best talent they can attract.

With that said, they are running into unanticipated challenges and need some help.

One of their new challenges seems to be related to going global with their outsourced teams. Many of their teams are now remote from each other with a mosaic of cultures, diverse languages and demographics, while working across multiple time zones. This change has resulted in a general breakdown of communication across the board.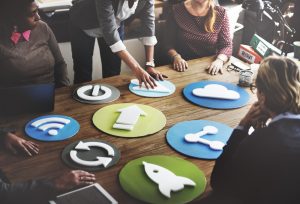 If you find yourself facing similar challenges, there are some things you can do to help repair the communication breakdown. Start with this three-step process:

Step 1. Engage

Managers and leaders in today's fast-paced, constantly changing work environment must learn to engage within their context in order to stay in touch with the needs of their organization. Open channels of communication on a formal and informal platform to stay connected with any changes or needs across your organization. This will also help you stay ahead of any potential challenges, obstacles or general breakdowns in communication.

Step 2: Adapt

When you're engaged and in touch with your organizational ecosystem, you're better able to respond with applicable strategy, plans and objectives that add value, maintaining the health and vitality of your organization. Use an iterative process introduced in the world of quality management. Make plans to respond, execute your plans, monitor and check the progress and effectiveness of your plans, and take corrective action if necessary. Continue this process iteratively in response to the changes in your context.

Step 3: Be Inclusive

In today's workforce, it's more important than ever to be inclusive of everyone and practice fairness. This requires leveraging diversity across your organization and making time to listen to everyone from the grassroots up. It's imperative that you protect the culture of your organization and ensure a strong foundation of trust and good relationships.

By including everyone, you increase the probability of success by gaining the contribution of every individual that's part of your organization from the grassroots up.

If and when you need more help, just reach out to us at Learning Tree and we can help you achieve your goals.

Lawrence T. Barnard, CMC, PMP, PMI-RMP, Change Management Practitioner

CEO of Explorus Group Inc.

Managing Partner of Hummingbird, and Mentors for Doctors

larry@explorus.ca

https://explorus.ca

ca.linkedin.com/in/lawrencetbarnard/

@LarryTBarnard

https://about.me/lawrence_barnard