2019-06-05
It is a Brave new (browser) world out there. Almost since the start of the World Wide Web, users have had different preferences of how to access it. Some like Firefox, some Safari, some Chrome, some Opera, some Chrome, some... You get the picture. The "browser wars" ebb and flow in intensity.

A relatively new browser called "Brave" is gaining attention now for its security and privacy: it does not have a password manager (I recommend a standalone one, anyway), it blocks ads and trackers, and it is fast. It is faster than Chrome. The Brave home page says it is "up to 8x faster than Chrome and Safari". Part of that may be due to the blocking of ads. It is built on Chromium, the open-source browser project behind Chrome.

Brave does not have all the features of Chrome. This is both good and bad. It is good because Brave removes some of the difficult-to-secure parts, and bad because there are still some features not currently fully supported. The Brave folks documented the differences. There is also some ugliness, to be honest. I do not like the new tab page, for instance.

The Brave home is https://brave.com. I downloaded the Brave installer from there, and let it install the browser. When first started, it gives configuration options such as importing settings from other browsers, making Brave your default browser, choosing your preferred search engine, and configuring shields - what it calls the privacy protections.

Finally, you are asked to enable Brave Rewards if you want to. The idea is that you enable privacy-respecting ads and the advertisers give some money to the developers of Brave. When you enable it, though, it is described as "Coming Soon". There is also a feature to let you contribute cash to sites you visit frequently and to manually "tip" content creators. Presumably, these are to compensate sites where you have blocked ads. The idea sounds as though it might work.

The first website I visited opened almost immediately with no ads. Brave said it blocked 2 trackers and 19 ads. Indeed, there were no ads on the site I saw. I went to another site and saw "28 Total blocked"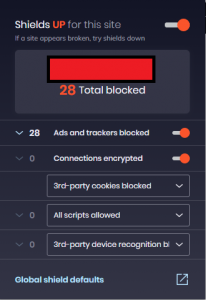 You can see that by clicking on the Brave icon in the address bar. Also in the address bar is an icon letting you know it is blocking "Autoplay" - that annoying feature that starts videos when a page loads. The "Shields UP" setting allows you to turn off ad blocking and any other protections you've turn on, but just for that site.

To be fair, I want to block tracking but not ads. Ads make the web work the way it does. I prefer watching ads to paying for access to a site I read a few times a year. I have learned to ignore the majority of the ads. If you want to block just tracking, you go the Settings from the hamburger menu and go to the "Brave shields defaults" section. Unfortunately, there is not yet a setting to allow ads that do not track.




I like Brave. It is evolving and as I mentioned, it has a few quirks. I need to play with it more. What I need to do first is to try all my Chrome plugins to ensure they work with it. I tried using my Yubico token on webauthn.org and it worked just as well as with Firefox and Chrome, so that is a positive start. It is usable now and as it evolves, I may make it my default browser.

To your safe computing,