2023-04-14
What is a Microsoft Office Add-In?
Add-ins provide optional commands and features for Microsoft Excel. By default, add-ins are not immediately available in Excel, so you must first install and (in some cases) activate these add-ins so that you can use them.
Some add-ins are built into Excel, such as Solver and the Analysis ToolPak. Other add-ins are available from the Download Center and must first be downloaded and installed. Finally, there are add-ins that third parties, such as a programmer in your organization or a software solution provider, create. These can be Component Object Model (COM) add-ins, Visual Basic for Applications (VBA) add-ins, and DLL add-ins (ok, please stop with all the technical details already - get me started being productive already :0). These add-ins must also be installed to use them. But don't worry about the "installation" part as the modern Microsoft Office makes it easy, as you will see.
How to add an Add-In to Word
All Microsoft Office applications support the installation of Office Store Add-Ins similarly. Click on the Insert Tab, select Store, and then click on the Store tab within the popup window.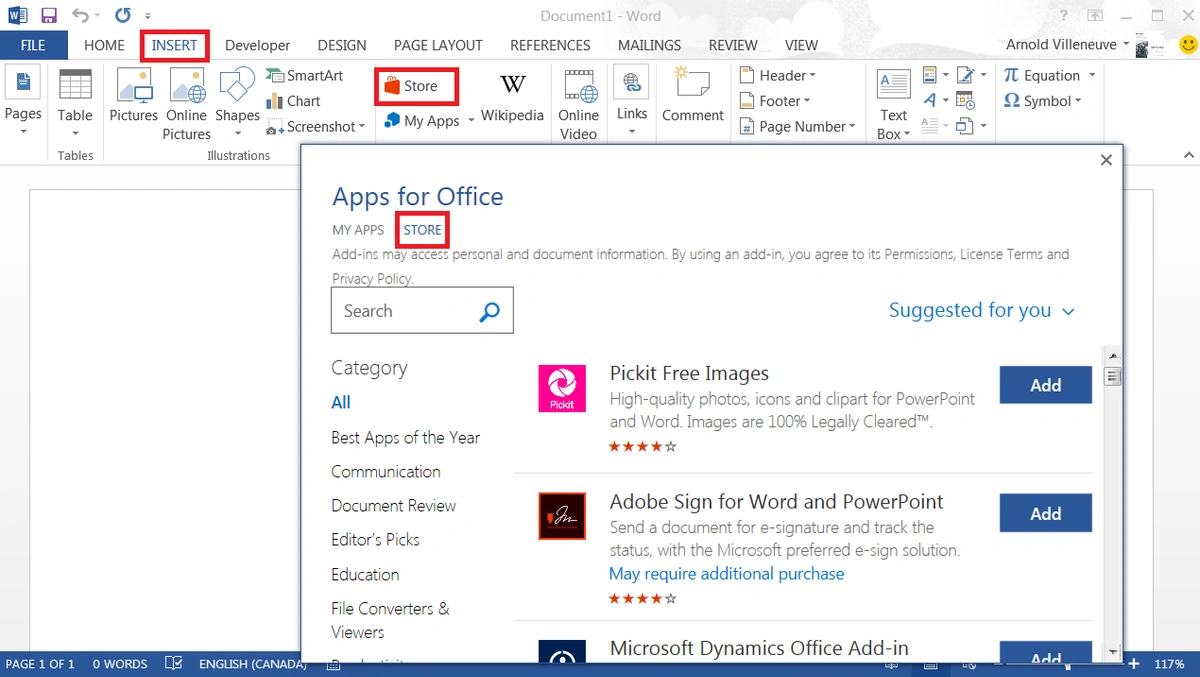 As you can see, there are many Word-related Add-Ins to add to your Word application. Let's take a look at some of them. Right off the start, you can search for a Word Add-In that provides a function you have been looking for to help you in your work. For example, if you want to have your Word document charts update automatically every time the related Excel Workbook data updates, search for "Excel to Word," and you will find the Add-In (note: you will need Office 2016 for this Add-In). You can also browse by Category. Give it a try and click on Productivity.
Make a Word Cloud of your Document
As you can see, many productivity-related Add-Ins are specially geared toward Microsoft Word. The critical aspect to note here is that some Add-Ins are standalone and free, some are standalone and cost money, and some are related to your subscription account with an online service like Salesforce or MailChimp example to be able to make use of it. So let's find a good one and install it. Scroll down to Lingulab Wordcount and click on the Add button. Lingulab Wordcount will analyze your document and create a word cloud from it that you can insert into your document to show which word concepts are used more than others.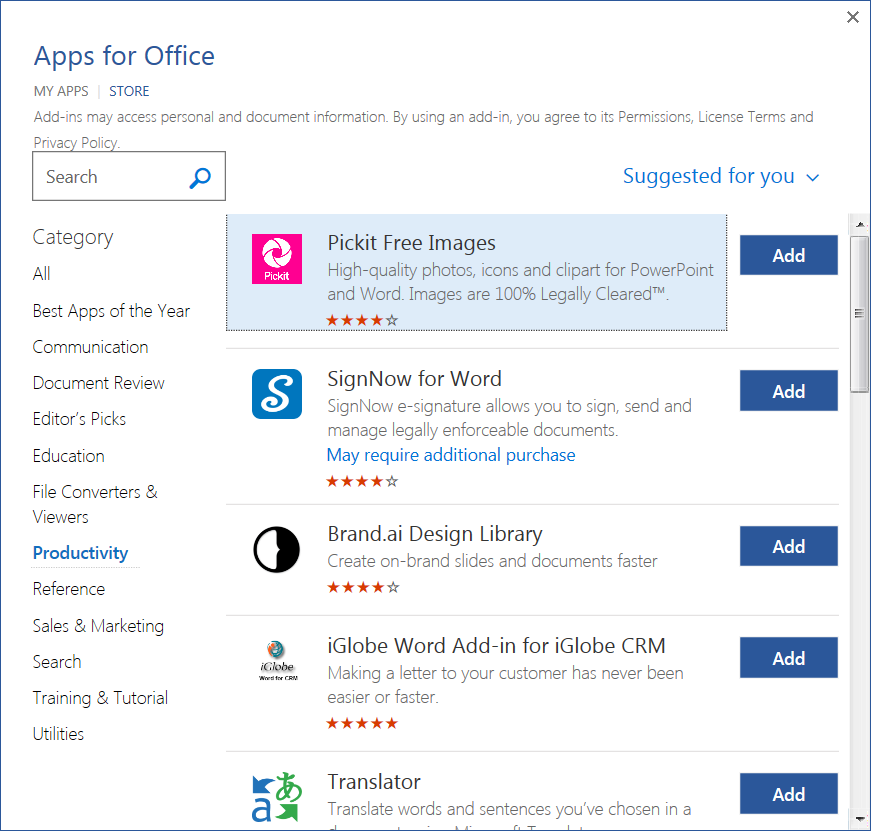 The Lingulab Wordcount Add-In will install and open a panel on the right-hand side of Word. Now open a document you are familiar with. If the Lingulab Add-In disappears, click on the Insert Tab in the ribbon and select My Apps. Now comes the good stuff. Click the Whole Document button in the Lingulab dialog box to create a word cloud.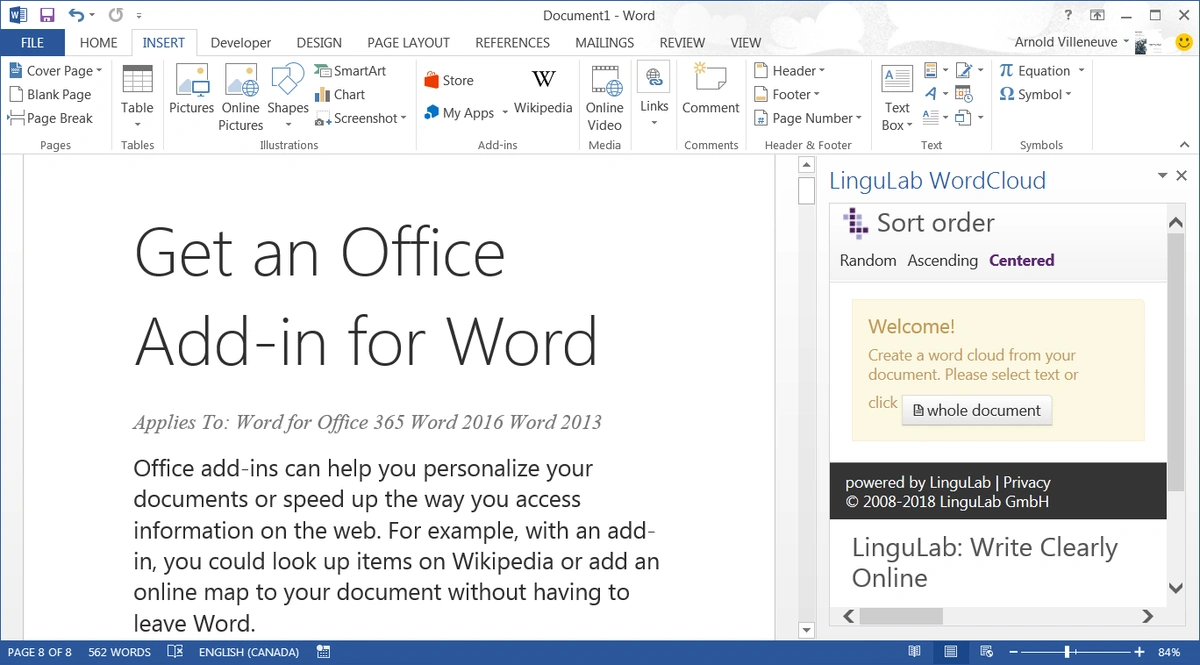 Lingulab Wordcount will analyze the document and create a Word cloud based on its content. You can then click the Insert button to insert the Word Cloud into your document!
Very cool. If anything, it will help you assess what concepts you are expressing or that are expressed in the document you are reviewing. The tool can make you a more productive author because it will analyze your documents and help ensure you get the major concepts you want to communicate.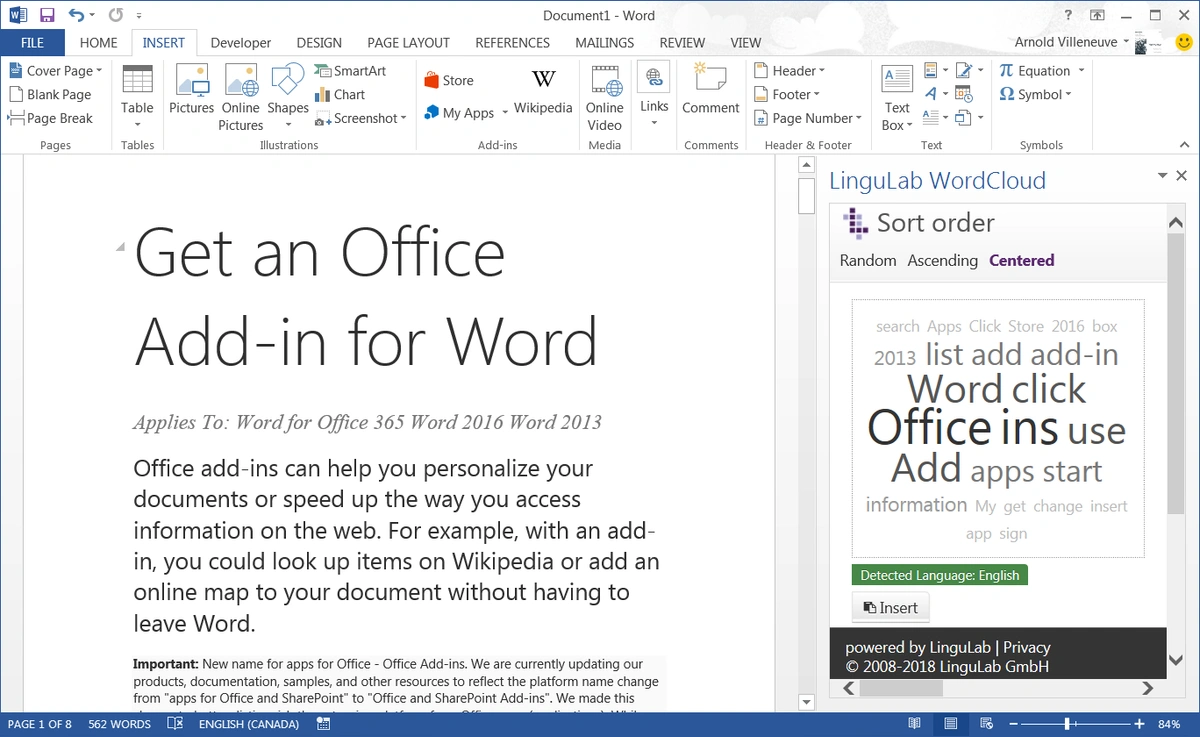 Go forward and be Productive
That is just one of many productivity Add-Ins for Microsoft Word that can help you accomplish your day-to-day objectives. There are so many to choose from. And if your organization is using online services like Salesforce or Microsoft Dynamics, check to see if there is an Add-In that you can leverage with them. Now that you know how to install an Add-In to Microsoft Word, try searching for other Add-Ins that will help you be more productive at work and home.
Enhance your skills and power up productivity with Learning Tree's Business Application Training.
This piece was originally posted on June 27, 2018, and has been refreshed with updated styling.