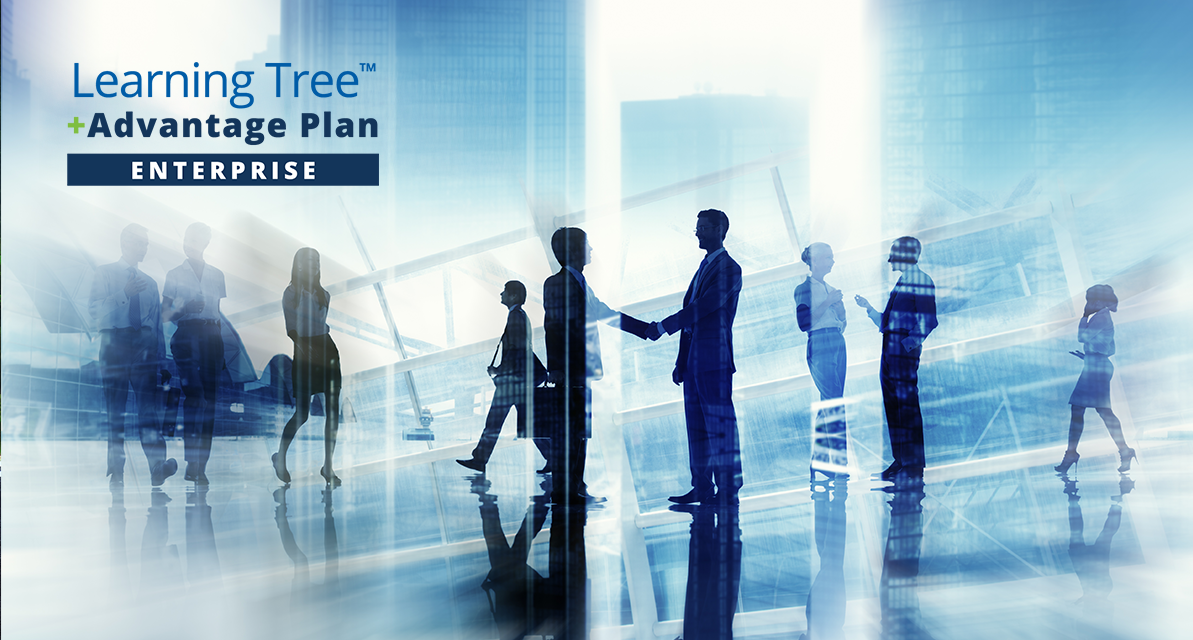 Improve Employee Performance With Unlimited Skill-Based Virtual Training
The Learning Tree+ Advantage Plan is a subscription-based program designed to make an immediate impact on organizational performance and productivity through leadership, project management, and technical skills training & certification.
With tailored learning paths and real-world instruction from Subject Matter Experts, this results-driven training solution comes to you at an affordable fixed annual rate, with a focus on aligning individual training needs with organizational goals.
Learning Tree+ Advantage Plan for Enterprise
Develop a Skilled Workforce for Improved Organizational Performance
Your workforce gets access to our live Virtual Instructor-Led Training (VILT) courses. From project management and leadership to cyber security and hard skills development, you can choose from a comprehensive range of Guaranteed-To-Run (GTR) courses to support upskilling needs and certification training.
Invest in the development of your employees with an affordable fixed rate designed to maximize your annual cost savings and fiscal year training budget concerns. Spend wisely with select courses that are consistent with your onboarding objectives, evolving job roles, and leadership development - providing you with ROI and a needs-based solution to upskilling.
Learning Tree has partnered with leading accreditation organizations to create a comprehensive curriculum of practice exam content for highly coveted certifications. Now you can retain your top talent by giving them the opportunity to acquire the confidence, credibility and certifications.
Learn and develop real-world experience with guidance and instruction from top industry experts. Our real-world instructors offer a wide range of knowledge, technical and soft skills required to train individuals and support team initiatives needed to meet new or existing challenges.
Access Virtual Instructor-Led Training Courses
Access Practice Exams & Labs
Access Downloadable Course Materials
Access After Course Coaching Program
Access to Enterprise Solution Manager
Access to Guaranteed Course Dates
Explore Over 300 Guaranteed Courses with this Plan
Download the Enterprise Advantage Plan's Benefits
Learning Tree Has Helped Develop More Than 3 Million Professionals Around The World
Maximize Your Skills Training Budget
Subscribe to the Learning Tree+ Advantage Plan Today
The Learning Tree+ Enterprise Advantage Plan is for enterprise-level organizations enrolling (5) or more employees. Terms & Conditions Apply