In this webinar, we will learn about all certifications available from Microsoft in this popular Azure solution area. The 5 certifications in Azure Data & AI are:
Azure Fundamentals
Azure Data Scientist
Azure Data Engineer
Azure AI Engineer
Azure Solutions Architect
For each path, we will review the courses available, prerequisites, dependencies, practice tests, exams, and recommended learning approaches. We will also dive deeper into the specific Azure technologies currently covered by each solution area. By the end, you'll have actionable next steps that you can use on your continuous learning journey around Azure.
Earn 1 CEU. Credits are self-reported to the industry certifying bodies. Check their respective websites for details/qualifications.
[Webinar ID #1149]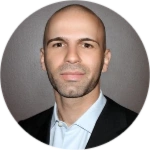 Presented by Vitaly Livshits Microsoft Azure Curriculum Dean
As president of Vitaly's Consulting Corporation, Vitaly has over 14 years' experience as a self-employed consultant, helping clients achieve their organizational objectives, identify and seize new opportunities, implement changes, and enhance learning. His key consulting values are open and continuous communication, high-quality collaborative relationships, rapid results, and frequent iterations. Currently, Vitaly is the Dean of Learning Tree's Microsoft Azure curriculum assigned to enhance all aspects of Azure training for Learning Tree's clients. Vitaly also is a consulting instructor on a variety of IT courses using both Learning Tree and Microsoft Official Curriculum (MOC) material. His current focus is courses on Azure, SQL Server, Power BI, database and data warehouse concepts, .NET and TOGAF. He is also earning and maintaining active MCT, TOGAF, and other certifications and is continuously staying on top of high-demand technology areas. He is also learning from senior Learning Tree personnel about the best techniques for delivering technical training to modern corporate audiences.