Your instructor would like to receive the learning goals of all the attendees in your upcoming class so that they can study them before the course starts. This will help your instructor to be better prepared to help you personally during the course. To achieve this, we need you to fill in a Pre-Course Learning Profile form.
Please click here to login to your My Learning Tree Account.
After you're logged in, locate the panel of your upcoming course on your Dashboard and click on the 'DETAILS' button.
Scroll down the page to locate the heading "Benefits and Other Materials." The following widget should display: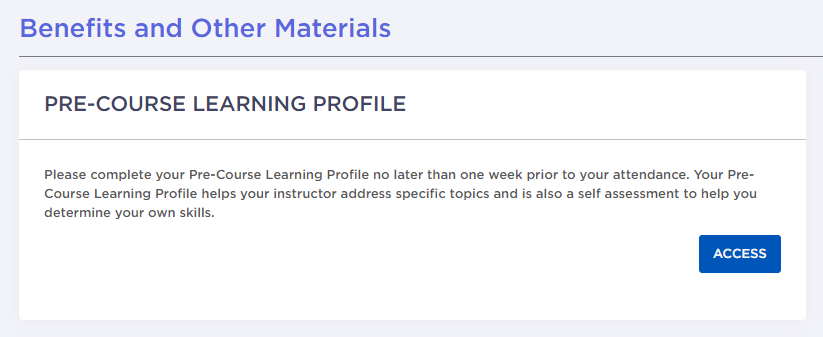 Click on 'ACCESS.' Please complete this form and click "Submit."
If you have any trouble with this process, or would like assistance completing it, please call 1-888-THE-TREE (843-8733) and a customer service representative would be happy to help.
Thank you very much for your prompt action in completing your Pre-Course Learning Profile. While you are viewing your upcoming course information, please also review the other benefits and features available to you. We look forward to seeing you in our class!