IT Architecture is critical to building a stable agile IT infrastructure that is in alignment with the business and its objectives. In a dynamic business environment the infrastructure and all its processes need to not just keep up but provide opportunity for strategic advantage:
How to start the IT Architectural practice
Engage the business so that IT can be a partner
Create re-usable architectural building blocks
Leverage existing architectural content
In this webinar, learn the importance of IT Architecture and how it causes organizations to be successful. There will be fifteen minutes of Q&A, so bring your questions for the expert to address. Written answers to all questions left unanswered will be provided to registrants post-event.
Earn 1 CEU. Credits are self-reported to the industry certifying bodies. Check their respective websites for details/qualifications.
[Webinar ID# 1164]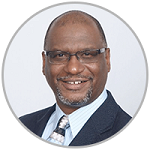 Presented By Roger St Hilaire
Roger St Hilaire is an ICT Strategy and Governance Specialist with over 25+ years' experience in information systems design, development, implementation, and training. He has been CEO at RESH Global for over three years and served on various non-profit boards including chapter liaison for government collaboration in ISACA Trinidad and Tobago. Roger carries many IT credentials including Certified in the Governance of Enterprise IT (CGEIT Certification)™, Certified Information Security Manager (CISM)™ and TOGAF® Certified, PSP Rainmaker® among others. His IT management career spans over 25 years in leadership roles across a wide range of industries. Roger is very active in the IT governance and architecture communities and works with organizations across the planet.