According to "Pearson VUE 2017 Value of IT Certifications Survey", 64.9% of respondents received a positive impact from their IT certifications. The impact was rapid, with the majority achieving benefits within the first 3 months.
Microsoft certifications are continually evolving to give you a professional edge in the industry. Over the past few months, Microsoft has significantly revised its certification stream to include new Azure-specific options to help you grow your cloud expertise and take your career to the next level.
In this on-demand webinar, we will review Microsoft's latest role-based certification paths. We will learn about the options available and identify the best certifications for each role. We will also talk about the logistics of earning certifications, including scheduling exams, physical and virtual testing location options, available discounts, and other important practical considerations.
Earn 1 CEU. Credits are self-reported to the industry certifying bodies. Check their respective websites for details/qualifications.
[Webinar ID #1173]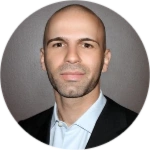 Presented by Vitaly Livshits Microsoft Azure Curriculum Dean
As president of Vitaly's Consulting Corporation, Vitaly has over 14 years' experience as a self-employed consultant, helping clients achieve their organizational objectives, identify and seize new opportunities, implement changes, and enhance learning. His key consulting values are open and continuous communication, high-quality collaborative relationships, rapid results, and frequent iterations. Currently, Vitaly is the Dean of Learning Tree's Microsoft Azure curriculum assigned to enhance all aspects of Azure training for Learning Tree's clients. Vitaly also is a consulting instructor on a variety of IT courses using both Learning Tree and Microsoft Official Curriculum (MOC) material. His current focus is courses on Azure, SQL Server, Power BI, database and data warehouse concepts, .NET and TOGAF. He is also earning and maintaining active MCT, TOGAF, and other certifications and is continuously staying on top of high-demand technology areas. He is also learning from senior Learning Tree personnel about best techniques for delivering technical training to modern corporate audiences.