While many businesses still disregard the importance of consistent cloud auditing, the stakes continue to get higher and higher. Failing to audit your cloud environment can not only impact your mission-critical processes, but your customer data and many other essential facets of your business.
Performing an in-depth audit will help optimize your cloud environment and enhance visibility over your cloud infrastructure. More importantly, it works as a vital component of cloud compliance. Whether you're an Assessor, Auditor, or Compliance Manager, you must possess a firm understanding of the standard components of cloud audits and how to put principles to practice.
In this on-demand webinar, join technical training solution expert and the current Chartered Financial Analyst for ISACA, Chris DeMale, to discuss the importance of cloud auditing for optimization, upskilling your understanding of common terminology, utilizing your existing resources, and examining why developing a compliance strategy is essential for effective cloud management.
You Will Learn:
The proper steps to ensure the proper controls for cloud accessibility, confidentiality, and integrity are in place.
How to mitigate the cost and risk of audit management and how to avoid getting penalized for non-compliance.
How to enhance organizational reputation while instilling trust and confidence from customers.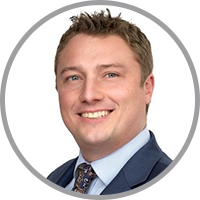 Presented by Chris DeMale
Chris DeMale, CFA, is the Director of Channel Business Development globally for ISACA's and the CMMI Institute's full suite of training, assessment, and cybersecurity products. In 2020, the business experienced record growth of over 80% under his leadership. Mr. DeMale is an invaluable resource and consultant with expertise in building out technical training solutions for organizations. He has helped hundreds of clients expand and enhance their capabilities. He has worked for prestigious companies such as JP Morgan, Deutsche Bank, and Morningstar, Inc. and holds degrees in Economics and English from Vanderbilt University and an MBA with Distinction from DePaul University.