The New York City Education Center is located in midtown Manhattan near Times Square and the Theater District and is convenient to the 49th Street MTA subway station. Enjoy leading-edge IT training and management skills courses in our state-of-the-art New York City Education Center. All classrooms offer a distraction free learning environment, and leverage sophisticated training technology to deliver a superior hands-on learning experience.
New York Education Center
Executive Conference Center
6th Floor
1601 Broadway (enter on 48th Street)
New York, NY 10019
Toll-free: 1-888-THE-TREE (843-8733)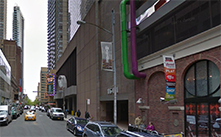 Directions and Parking Information
We are located in the same building as the Crowne Plaza Hotel
1601 Broadway at 48th Street near Times Square.
Enter 1605 Broadway.
For driving directions and maps click here:
https://maps.google.com
For additional transit directions (bus, subway) click here:
https://www.mta.info/
There are parking garages available on 48th and 49th streets, as well as at the Crowne Plaza.
To obtain special rates when making hotel reservations, please call at least two weeks in advance and identify yourself as a Learning Tree International student.
Crowne Plaza Manhattan
1605 Broadway
New York, NY 10019
Tel: 212-977-4000
Fax: 212-977-5517
Reservation: See https://www.cpmanhattantimessquare.com for 15% off the best available rates
The Belvedere Hotel
319 West 48th Street
New York, NY 10036
Tel: (888) 468-3558
Reservation: https://gc.synxis.com