Enterprise Agility is imperative for succeeding in this disruptive and complex world — and state, local, and federal governments aren't immunized. SAFe clearly has established itself as the leading Enterprise/Business Agility framework, including Federal agencies and state governments.
It can help enable and accelerate Lean-Agile fluency, blending effectiveness with efficiency to better cope with this disruption. However, scaling Lean-Agile in the government sector has some unique challenges, as well as challenges in common with the private sector, including:
Enterprise Alignment
Overarching regulations
Archaic processes
Collaboration required across government, contractors, and citizens
Bureaucratic and political elements
Limited resources
Resistance to change
In this on-demand webinar, Organizational Agility Expert Eshan Chawla will briefly introduce SAFe, how to build your expertise and some considerations for successfully Scaling Agile.
Earn 1 Project Management Institute PDU for Watching.
Safe Government Agility Webinar FAQ
Who should watch this On-Demand Webinar?
This on-demand webinar will include content that will appeal to individual contributors and decision-makers working within or adjacent to federal, state, and local government entities.
Job roles include:
Senior and Mid Management
Program / Project Manager
Scrum Masters and Product Managers / Owners
Team leaders and members
Consultants / Trainers
Contracting Officers
L&D / Training Leader/Specialist
All attendees of past SAFe course events will benefit from the content.
If I want to learn more about improving Government Agility, where can I look?
All Courses in the SAFe Curriculum will help you and your team accelerate Government agility. Visit our SAFe Certification page to learn more and to connect with a Solutions Manager, who specializes in your agency's needs.
Can I earn continuing education credits for attending this webinar?
Yes! Earn 1 PMI PDU for Attending. Credits are self-reported to the industry certifying bodies. Check their respective websites for details/qualifications.
[Webinar ID# 5314]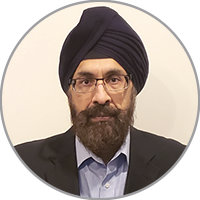 Eshan Chawla
Eshan is an Enterprise Transformer and Senior Instructor. His management experience includes CIO Services at Deloitte, Principal Consultant at PricewaterhouseCoopers (PwC), and a Project Governance Practice Director at MDI. Eshan has accelerated numerous Lean-Agile transformations for leading fortune 500 companies and Federal / State agencies.