Learning Tree Celebrates 10 Years of AnyWare Virtual Training
}
Learning Tree Celebrates 10 Years of AnyWare Virtual Training
HERNDON, Va. — July 25, 2019 — This July, Learning Tree International is celebrating the 10th anniversary of AnyWare, the online attendance platform which allows attendees to experience the same instructor-led training as at our Education Centers from the convenience of home, work... or anywhere! All month long, employees and customers are sharing their AnyWare stories and celebrating this revolutionary technology, which makes training more accessible than ever before.
Did You Know?
Learning Tree attendees have participated in over 1.9 million hours of AnyWare training to date.
AnyWare attendees have attended from 115 countries around the world.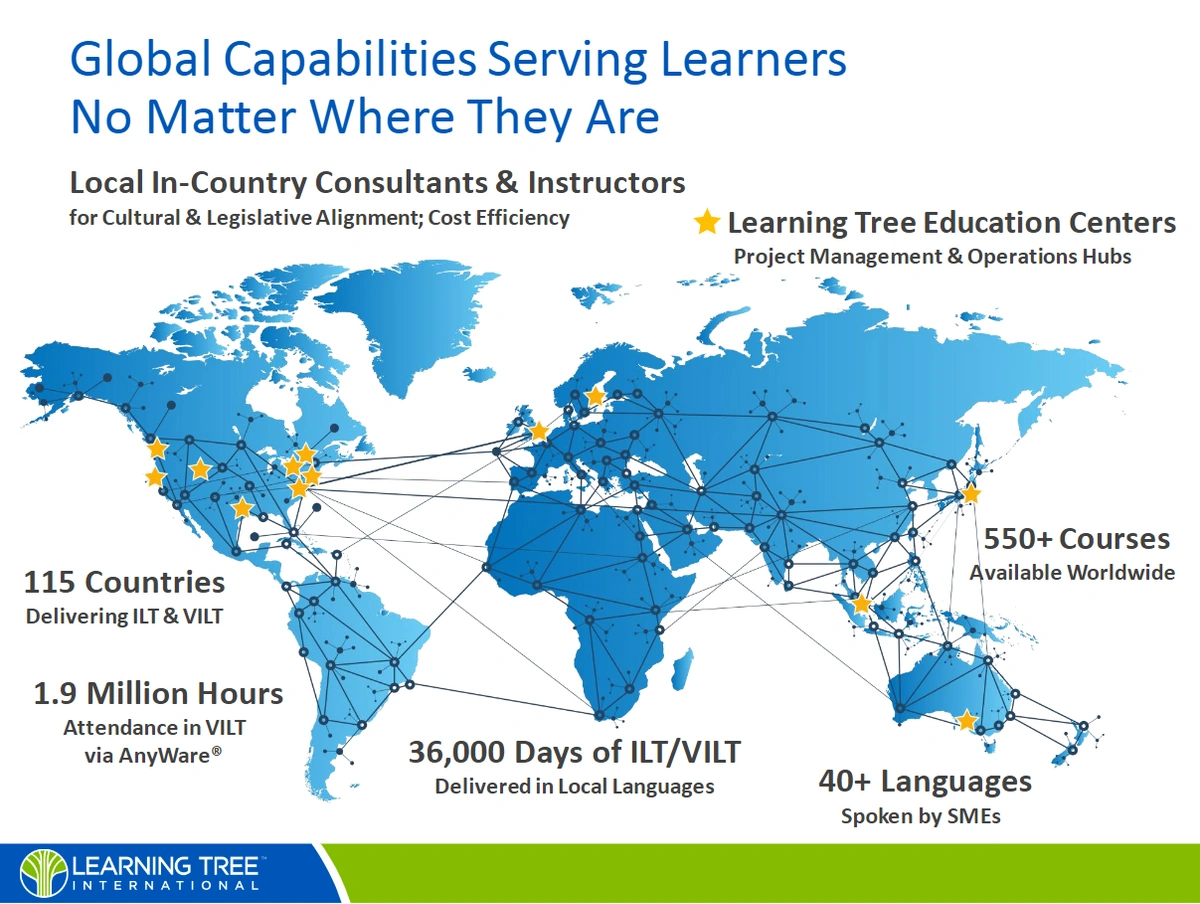 Benefits of AnyWare
Communicate in real time with your course instructor and classmates.
Ask questions, get clarification, and contribute your insights just as if you were in a physical classroom.
Control an in-class computer via the AnyWare interface so that your instructor can see exactly how you're doing and offer concrete help.
Avoid commutes and travel time.
Eliminate expenses for airfare, hotels, and rental cars.
Choose from hundreds of dates and course events.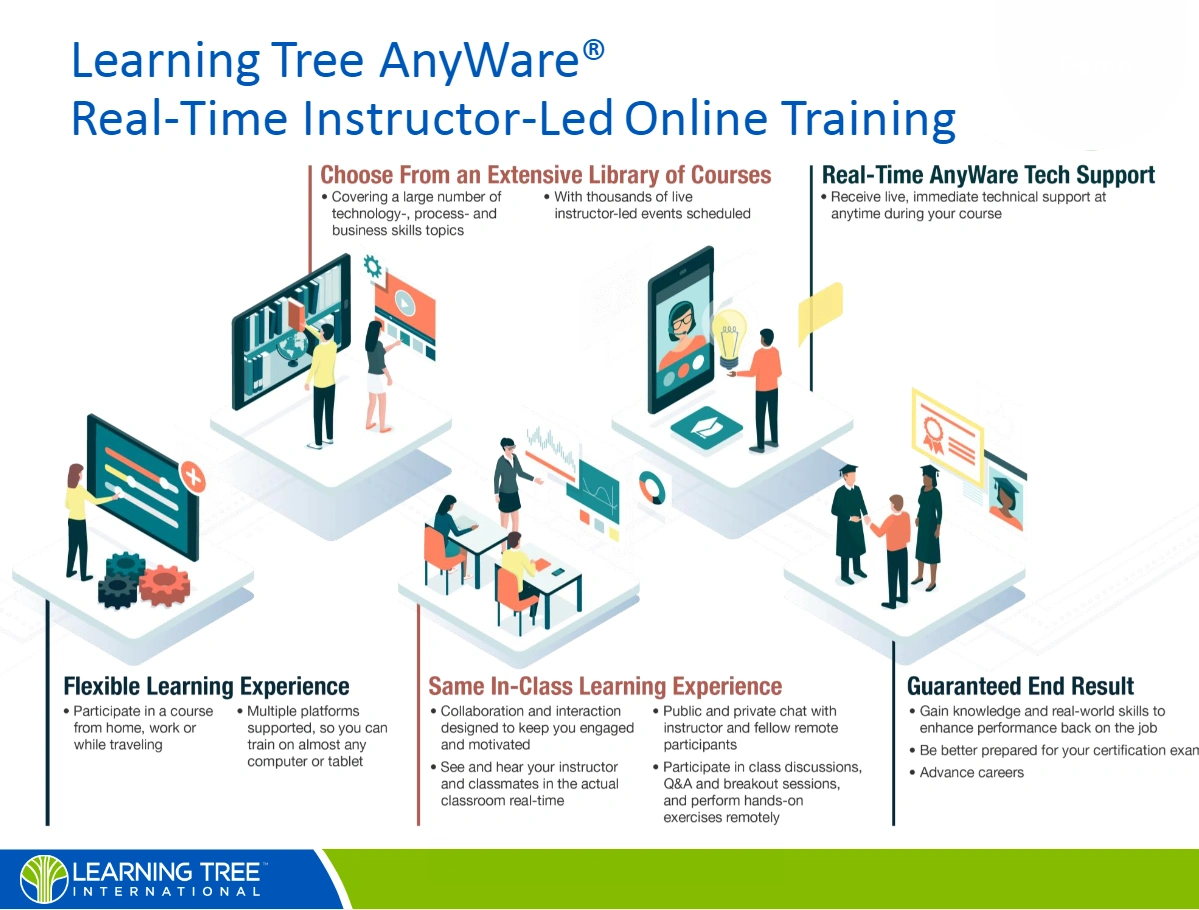 What AnyWare Attendees Are Saying
"As a course participant attending remotely, I found Learning Tree AnyWare to be an excellent format for this type of learning. In fact, I believe AnyWare should be the industry standard."
— B. Wilson, Network Administrator, Mustang Engineering
"Even though I was an AnyWare online participant, the interaction I had with my instructor was the best — he knew the technology and made me feel as if I was sitting right there in the classroom."
— M. Mitchell, Database Administrator, MetLife
"Taking a Learning Tree course live, online via AnyWare was valuable to me because I didn't have to make the long drive to class every day. I was able to focus on my training instead of dealing with the frustrations of the commute."
— R. Scott, Business Analyst, CACI
Meet Our AnyWare Team
We're not just celebrating AnyWare — we're celebrating our AnyWare Support Team too! Click below to meet two of our fantastic AnyWare Support staff and get to know the face behind the (virtual) interface!
Have you taken an AnyWare course? Share your thoughts!
Did you love your AnyWare course experience? Are you currently taking an AnyWare course? We want to know your favorite part! Whether it's being able to take your course alongside your pet, having your favorite mug at hand, or the view at the "office", show us what "AnyWare In Real Life" means to you!
Post your photo with the hashtag #AnyWareIRL on LinkedIn, Twitter, or Facebook to show off what you love most about taking your course ANYWARE!
---
About Learning Tree International
Learning Tree International is the trusted, global leader in supporting the development of knowledge, skills, and abilities in today's workforce. Learning Tree has helped more than 2.5 million individuals worldwide develop the skills and earn the certifications necessary to support their careers and organizations' missions. With the world's largest collection of proprietary and partner content for the IT profession, the Learning Tree ecosystem reflects how learning is done today and provides greater impact than eLearning or classroom learning alone.
To learn more, call 1-888-THE-TREE (843-8733) or visit https://www.learningtree.com/
Media Contact:
Tricia Sacchetti
Vice President, Worldwide Marketing
Learning Tree International
+1 703 925 5552
Tricia_Sacchetti@LearningTree.com
Cautionary Statement Regarding Forward Looking Statements
The statements contained herein that are not historical facts are forward-looking statements based on management's current expectations and beliefs concerning future developments and their potential effects on Learning Tree. Such statements involve inherent risks and uncertainties, many of which are difficult to predict and are generally beyond the control of Learning Tree. There can be no assurance that future developments affecting Learning Tree will be the same as those anticipated. Learning Tree cautions readers that a number of factors could cause actual results to differ materially from those expressed in, or implied or projected by, such forward-looking statements. Learning Tree is not undertaking any obligation to update forward-looking statements contained herein to reflect future events, developments or changed circumstances.